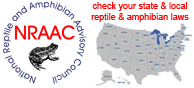 Thank you for your interest in the National Reptile & Amphibian Advisory Council.
Our organization is a not-for-profit educational organization, staffed and run by volunteers, tasked to provide tools and resources for learning about and researching laws, rules, and regulations regarding reptiles and amphibians at the Local, State, National and International levels in the United States.

Our mission is to connect people interested in reptiles, amphibians, and the law, whether they are pet owners, breeders, stores, businesses, rescues, rehabiltators, educators, researchers, zoological institutions, herpetolgical organizations or government agencies.

Our organizations primary purpose is to host an annual symposium and workshop to bring together people, organizations, companies, and agencies to discuss the impact of laws, regulations, and restrictions on reptiles and amphibians and the people that work with them.